UMC CELEBRATING 55 YEARS OF PROGRESSION & GROWTH
As we let go of the "OLD" and bring in the "NEW" we live our TRUE PURPOSE
$199 Entire Weekend (Does not include circles or private readings.)
Calendar
FRIDAY, OCTOBER 11:
WHETZEL HALL (Bookstore)
10:00 AM – CONVENTION REGISTRATION DESK OPENS
( Workshop Registration)
10:00 AM –MEDIUMS' SECRETARY DESK OPENS
(Mediums' Appointments and Tickets for Circles)
12:00 NOON – LUNCH (Donation $10.00)
12:30 PM – DELEGATE REGISTRATION DESK OPENS
(Check in for the Delegate Meeting)
1:00 PM – DELEGATE MEETING (Chapel)
Guest are also invited to attend this meeting
4:00 PM – CIRCLE – To be announced (Times, Mediums and Circles will be posted in the Bookstore)
6:00 pm – Dinner (Donation $15.00)
7:30 pm – Lecture, Message & Necrology Service-Revs. Justin Terry, F. Reed Brown & Sally Knuckles
9:00 PM- Reception (Library) (Rev. Sally Knuckles)
SATURDAY, OCTOBER 12:
8:00 AM – Breakfast (Donation $7,00)
8:30 AM – CONVENTION AND DELEGATE REGISTRATION DESK OPENS (Check in for the Delegate Meeting)
8:30 AM – MEDIUMS' SECRETARY DESK OPENS (Mediums' Appointments and Tickets for Circles)
9:00 AM – DELEGATE MEETING (Chapel)
12:00 NOON – LUNCH (Donation $10.00)
1:00 PM – 3:00 PM – "WORKSHOP"  STATES OF HAPPINESS: Secrets of Joy, Bliss, and Health.
Rev. Dr. Rocco Errico $30 Donation
The Facilitator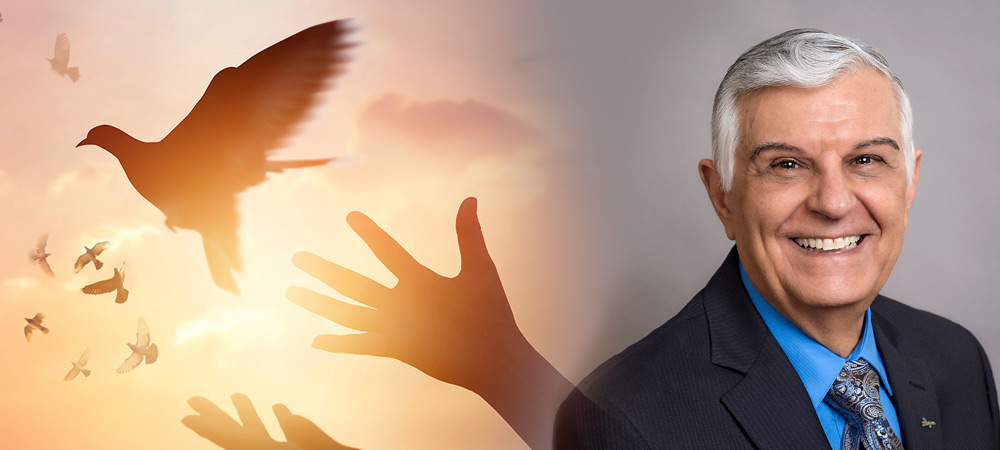 DR. ROCCO A. ERRICO
Rocco A. Errico is the founder and president of the Noohra Foundation in Smyrna, Georgia. He is a gifted and brilliant teacher and author and is one of the most dynamic and sought-after speakers. He offers keys which unlock mystical and metaphysical meanings in Scripture and builds a bridge between our Western ways of understanding and the Near Eastern social realities that are embedded in the Bible. Dr. Errico helps us see the Bible through Semitic, Aramaic eyes — in its original language. Bypassing doctrinal creeds and rigid interpretations, He presents a broader understanding of Scripture without the restrictions of literal explanations.
Dr. Errico's books include: Let There Be Light: The Seven Keys, And There Was Light, Setting a Trap for God: The Aramaic Prayer of Jesus, The Mysteries of Creation: The Genesis Story, Sodom and Gomorrah: What Really Happened, Aramaic Old Testament Commentaries (6 Volumes), Aramaic New Testament Commentaries (7 Volumes).
6:00 PM – Cash Bar = The Hotel Roanoke & Conference Center
6:30 PM – Banquet, Presentations & Entertainment at the Roanoke Hotel & Conference Center$50 =MENU "Magnolia Dinner Buffet"  Cold Salads: GARDEN GREENS (v,gf)  Freshly tossed lacinato kale, red oak, frissee and arugula, vinaigrette; GARDEN GREENS CENTER COPANY (v,gf)  Greek olives, marinated artichoke heart, thyme roasted walnuts;  WHEATBERRY, WILD RICE AND BUTTERNUT SQUASH SALAD:  (V) Walnuts, feat, chives, lemon juice, olive oil; CRANBERRY APPLE QUINOA SALAD (vn,gf) chickpeas, red onion, green apple, yellow pepper, dried cranberry, walnut, chives, pommery mustard vinaigrette
HOT ENTRÉE: Figgy Balsamic Pork (GF) Chili Rubbed Chicken (GF) DIETARY – Northern Bean Penne Pomodoro (V,GF)
VEGETABLE: Pan Roasted Broccoli (VN,GF)  STARCH: Polenta Dusted Russets (VN,GF?) DESSERT: German Chocolate Cheesecake (GF) Key Lime Avocado Mousse (VN,GF) Buttermilk Cheddar Chess Pie = Freshly Baked Artisan Bread & Butter, Freshly Brewed Coffee Service. 
SUNDAY, OCTOBER 13:
8:00 AM – Breakfast (Donation $7.00)
10:30 AM – Spiritual Healing (Chapel)
11:00 AM – Worship & Ordination Service
Rev. Justin Terry, Presiding
Rev. Dr. Rocco  A. Errico, Guest Speaker
11:00 AM –  No Children's  Church
12:00 NOON – Lunch ($10.00) followed by Reception for new Ministers (Library)
1:00 PM – Check Out & Executive Board Meeting (Office)
CAFETERIA HOURS:
Breakfast: Saturday and Sunday 8:00 AM -8:45 AM
Lunch: Friday, Saturday & Sunday 12 Noon-12:45 PM
Supper: Friday 6:00 PM-6:45 PM
Vegetarian Food is available
Directions to the United Metaphysical Churches
UMC is located at 1488 Peters Creek Road, NW, Roanoke, Virginia, at the intersection of Hershberger Road (to the east), Peters Creek Road, and Peachtree Drive (to the west).
1. From Interstate 81 take the US 581 exit South (exit 143).
2. Take the first exit off of US 581, Peters Creek Road, South. Turn right on Peters Creek Road at the end of the exit ramp.
3. Turn right at the fourth traffic light (Hershberger to the left and Peachtree to the right).
4. Immediately bear left into the United Metaphysical Churches driveway.
If you are coming from Melrose Avenue or Salem, turn north on Peters Creek Road. At the first light (Hershberger to the right, Peachtree to the left), turn left and bear left into the UMC driveway. Upon arrival check in at the office.
Airport Arrivals
The Roanoke Municipal Airport (code ROA) is less than 10 minutes away from UMC. If you are flying to Roanoke and need ground transportation, call the UMC office at (540) 562-4889 and they will do their best to accommodate you.
Let them know the date, arrival time, and airline you will be using. If you also need ground transportation to the airport upon your departure, please let the office secretary know your travel details—date, time, airline.
NEW Train service to Roanoke!
Passenger train service returned to the region on October 31 with a daily Amtrak train that departs and arrives in Downtown Roanoke. The new stop in Virginia's Blue Ridge is part of Amtrak's Northeast Regional Route, making the region easy to reach from destinations like Washington, D.C., Baltimore, Philadelphia, New York, and Boston.
It takes approximately five hours to make the trip to Virginia's Blue Ridge from Union Station in the nation's capital!
Click here to book your trip with Amtrak